my yoga community

I teach classes, workshops, and special events at Shanti Vinyasa Yoga Studio in Pinellas Park. Check my class and event calander (above) for current times, dates, and sign up, and the private lessons link for information on personalized training.
For current and future event descriptions, check the Shanti Vinyasa blog Events post.
Quick and easy purchase of Shanti Vinyasa Yoga classes, special events, and profile management.
I'm one of only two teachers in Florida certified in Viniyoga therapy for the relief of Chronic Back Pain!
Don't get left out! Make sure you're signed up to receive the Shanti Vinyasa newsletter in your mailbox!
Yoga Flow Essential Oils is my only choice for aromatherapy. All the blends used in my classes as well as custom blends made just for you using your Ayurveda dosha.
Karin Stephan, Iyengar master teacher. We are blessed to have her visit Tampa Bay every year. One of my most grounding and inspiring teachers.
Kali Ray is the main inspiration for Shanti Vinyasa. In our area, master teacher Lynne Andrews (Chandra) inspires me through the practice of Tri Yoga. Meditation in motion, energy flows with the breath to bring you to your true Self.
The National Institutes of Health is an excellent resource on the many documented benefits of yoga. Browse their extensive collection of videos, PDFs, and online information for the latest research findings.
Get The Facts: Yoga for Health.pdf This NCCAM/NIH paper is filled with researched health benefits of a yoga-based lifestyle. (PDF)
Yoga Moves is a wonderful studio in St Petersburg, filled with love and compassion.
Yoga Accessories Online source for props and tools for your yoga practice. High quality, reasonable prices.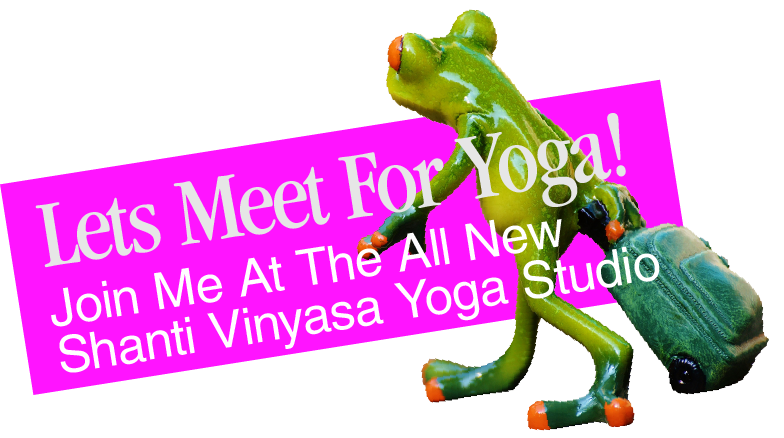 Yogi Sticks Amanda is an amazing RYT who shares her class plans with stick figures. Need a home practice? Use this to start, then come to class to refine the movements.
Do Yoga Doug Keller's website is a wonderfully informative source for learning anatomy, safe asana practices, and pranayama.
Bandha Yoga Information on yoga anatomy, this site features muscle and bone displayed in 3D in different postures. Browse around to learn how we're constructed.
Spirit Voyage Discover wonderful music for your practice. Perfect for meditation, asana, or simply living a peaceful life.