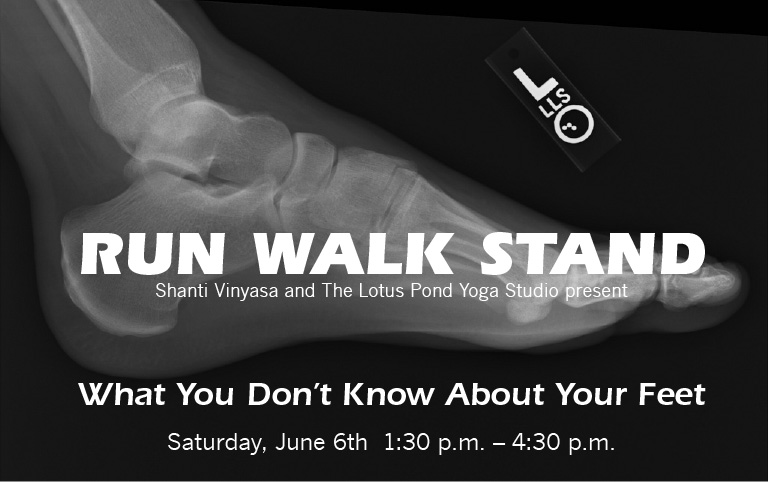 Healthy Feet Yoga Workshop
For Teachers And Students
When you think about what we put our feet through every day, it's no wonder they get tired and grumpy! Our feet are literally the foundation we depend on to support us as we go about our activities; hobbies, sports, work – all depend on healthy feet to take us where we need to be and then to bring us home.
This clinic takes an upclose and detailed anatomical look at our too often neglected feet. You'll see the intricate and amazing structure of the foot, and understand why foot health is so important and what we can do to promote it.
When: Saturday, June 6, 2015
Time: 1:30 p.m. – 4:30 p.m.
Where: signup at The Lotus Pond Yoga Studio
Cost: $40.00
CEUs: 3
Join Shanti Vinyasa's Nancy MacDonald when she presents a fun, informative, and unique look at our feet; how they're made, how they work, and most importantly how to keep them happily walking and at their healthiest!
Teachers can earn 3 CEUs while learning about the foot's unique anatomy as Nancy draws on her comprehensive knowledge of skeletal structure and biomechanics in this one-day, three-hour class.
You will learn:
Correct anatomical alignment for the feet, on and off the mat.
How misalignment of the feet can cause students to struggle in yoga postures.
Suggestions for students dealing with bunions or plantar fasciitis.
Healthy foot exercises you can perform anywhere to build strength and regain flexibility.
Ligaments, tendons, and muscles! Oh my!
How our shoes affect the feet, knees, hip health, and overall posture.
The most important stretch you can do for foot, knee, and hip health.
With over 2,000 hours of training, Nancy shares her in-depth knowledge of anatomy, and how understanding the mechanics of movement can restore vibrancy and health to your and your students feet.
This anatomy and practicum workshop is primarily designed for yoga teachers but students of all levels will gain insight and understanding through the unique techniques taught.
Signup at The Lotus Pond Yoga Studio now. This class will fill up quickly.
photo credit: My Foot 2 by Andrew Magill is licensed under CC BY